Rochelle Community Hospital Welcomes Orthopedic Surgeon Dr. Gadini Delisca
For Dr. Gadini Delisca, joining the right community was as important as practicing at the right hospital. And for Rochelle Community Hospital, we're thrilled that he chose our team—and community.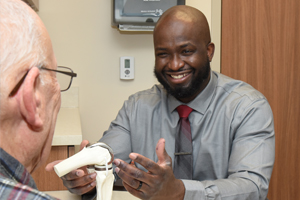 Dr. Delisca comes to RCH via Howard University, Vanderbilt University and the University of Michigan. A well-rounded orthopedic surgeon, he treats a wide variety of orthopedic conditions and sees patients at RCH Family Healthcare Clinic for visits, and the hospital for orthopedic procedures. While you may not need his services right now, you may just get to meet him out and about in the community. "I want to help establish our orthopedic program as a pillar of the community," he shared. "I want to be the familiar face on the sideline at local sports games when it's safe to do so. I want to help our arthritis population navigate through treatment options. I want to serve the community." 
Inspired by family
Encouraged by his parents, Dr. Delisca ultimately chose medicine to help people. "My mom is a medical assistant and she encouraged me to apply for the medical choice program," he said. "I got the chance to explore different options in medical school, I was drawn to surgery." His father, a mechanic, was the inspiration for Dr. Delisca's orthopedic focus. As a mechanic puts engines together to get cars back on the road, an orthopedic surgeon helps people regain mobility and return to doing the things they enjoy. "Ultimately, the years I worked in my father's auto-mechanic shop came full circle as I found orthopedic surgery to be the best fit."
Helping all ages
A true people-person, Dr. Delisca takes the time to get to know his patients to provide true, personalized care. "What I love most about patient care is that everybody has a story," he shared, "It's a privilege to get to know these patients and learn about their individual stories… and it is extremely gratifying to be able to help individuals overcome orthopedic ailments," he continued. "As an orthopedic surgeon who has benefited from well-rounded training, I enjoy working with a variety of patients and conditions. I do have a special interest in joint replacement and enjoy how those surgeries can really improve a patient's quality of life."
Community minded
Even before starting at RCH in January, Dr. Delisca knew a small community would provide big opportunities to get to know—and help—more people. A firm believer in becoming involved with, and a part of, the community, Dr. Delisca is excited for his new role—and new home. "So far Rochelle has been a great fit," he shared. "I'm excited to see where we go together and how I can help take care of people in the community." 

Orthopedic services include: 
• Fracture care: operative versus non-operative (splinting and casting)
• Carpal tunnel and trigger finger injections or surgery
• Joint replacement surgery: knee, hip or shoulder 
• Sports medicine

With questions, or to make an appointment, call 815-562-3784, or learn more about orthopedics.