We want to be a hospital you are proud of, and will call your own
RCH is pleased to be involved and truly recognizes that this is not a community hospital, but your community hospital. Our community partnership not only allows Rochelle Community Hospital to provide the best quality healthcare, but also offers wellness resources and educational opportunities to help you get the most out of your healthcare and your life.
Community is a Part of Us
Jordan Miller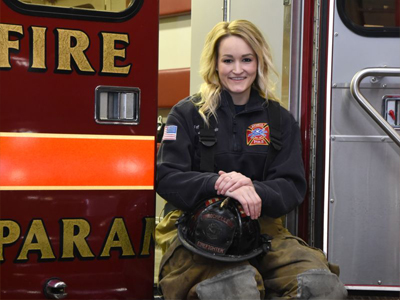 Jordan Miller loves her job as a nurse at Rochelle Community Hospital. But her devotion to helping people doesn't stop there: She's also a volunteer firefighter and EMT for the community.
Jordan is a lifelong resident of Rochelle and has been with RCH for over four years. She loves spending as much time as possible outdoors with her family and friends, playing with her dogs (Mia the Boxer and Maximus the St. Bernard), and chasing after her toddler nephew. "He keeps me on my toes!" she says.
The spirit of community is one of Jordan's favorite parts about living and working in Rochelle. "We all come together in times of need," she explains. "Whether it is someone who needs directions, someone who has lost a family member, or back when we had the tornado come through town. You will always see people in this community coming together to help out and be there for each other in some way."
Marge Smith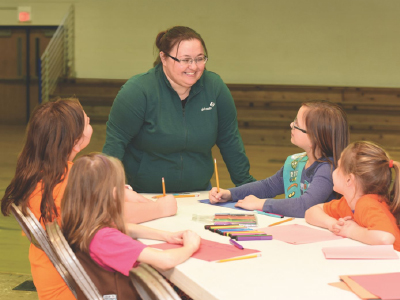 Marge Smith is never one to miss an opportunity to do good: When she's not working at RCH as a nursing assistant on the med/surg floor, she leads a Girl Scout troop.
The mother of two has worked at RCH for more than four years and has been a resident of Rochelle nearly her entire life. When she's not working or leading her troop, Marge enjoys spending time with her family and going to concerts with her best friend.
Marge loves her community and is always willing to help a friend or a neighbor. "I love that you meet new people here and we come together when we're needed. That's what makes us friends and family."
Eric Van Hise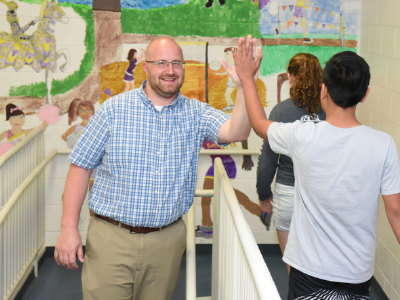 For Eric Van Hise, leading, problem-solving, and cooperation come naturally. He's Manager of Materials at Rochelle Community Hospital and uses his talents outside of work as a member of the school board.
Eric was born in Rochelle and has lived here most of his life. In fact, he was born right here at RCH and the doctor who delivered him still practices in the hospital.
Eric has been with RCH for a little over two years. He lives with his wife—an RN and clinical educator at the hospital—and their two daughters, Lydia and Macie. When he's not at the hospital, he helps out with his family's farm, golfs, fishes, and spends time with his family.
The small town life suits Eric and his family just fine. "I enjoy seeing people I know when I go to the store or when I attend an event. I also like living somewhere small enough to make an impact," he says. "Working at the hospital and sitting on the school board are my ways of making the community a better place for my family and the people of Rochelle. This town has given me a lot. I want to give something back."
Kellie Downing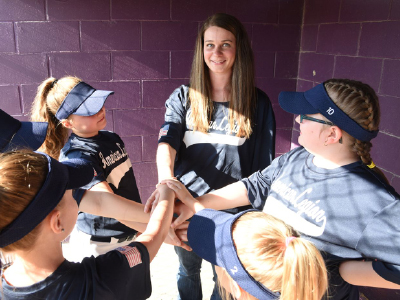 In a way, Kellie Downing grew up with Rochelle Community Hospital. "I started working here as a fitness center attendant when I was 16," she says. Kellie worked hard, went to college, and graduated from phlebotomist to Emergency Room aide. She currently works in the Emergency Room as an RN.
Although technically Kellie grew up in Stillman Valley, she considers Rochelle home. Kellie is pleased that her daughters, ages 5 and 7, also get to grow up in the community. She coaches her daughter's softball team and spends as much of her free time as possible with both of girls and their dog, Wilma.
Kellie loves the variety of work that comes with a shift as an Emergency Department RN. "My favorite part is not knowing what's coming next," she says. "I like the unknown. It keeps me on my toes."