Complete care for all ages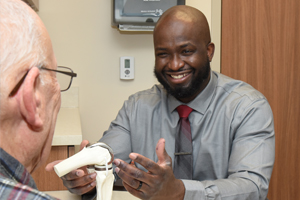 Live life to the fullest and get back to the activities you enjoy. Orthopedic surgeon, Dr. Gadini Delisca and physician's assistant, Harrison Swalla, MPAS, PA-C, lead our expert team at XCEL Orthopedics providing customized care to help patients of all ages. From comprehensive evaluation to complete rehabilitation, find a full range of services to relieve pain, regain mobility and return to a happier, healthier and more active life.
Dr. Gadini Delisca, Harrison Swalla, MPAS, PA-C and the entire XCEL Orthopedics team offer a full range of services. Dr. Delisca sees patients and performs orthopedic surgeries at Rochelle Community Hospital. He specializes in knee, hip and shoulder replacement procedures, fracture care, arthritis and carpal tunnel solutions, sports medicine and hand, foot and ankle injury treatments. Harrison's practice focus involves non-surgical adult and pediatric fracture care, sports medicine, geriatric care and osteoarthritis treatments for the shoulder, hip and knee.

The team's personable approach aligns perfectly with their passion to get to know people of all generations and help them as their needs evolve. From therapies to prevent further injuries to total joint replacements, find complete care from a team dedicated to helping you meet your goals and return to the quality of life you enjoy.

To schedule an appointment, please reach out to the clinic at 815-561-2774.
More locations to serve your Orthopedic & Sports Medicine needs!
Visit Our New Sycamore Clinic! XCEL Orthopedics will be having a "Soft Open" for our new outreach clinic in the Sycamore, IL, area on May 15th for added patient care and convenience.
2670 DeKalb Avenue
Sycamore, IL 60178
Our Patients Say it Best
A Welcome Addition to RCH!
"Our family has had two experiences with Dr. Delisca. Our 9-year-old broke her foot and my hubby recently hurt his calf and ankle. Dr. Delisca and his staff are polite, informative, thorough and will take the time to answer any questions. He is a welcome addition to Rochelle. If you ever have a reason to see him, don't hesitate. You will be well cared for."
A First-Rate Experience!
"I recently had knee replacement surgery performed by Dr. Delisca. My care was absolutely wonderful. I would definitely recommend him and his staff—as well as the RCH staff. My surgery was early in the a.m. I was assisted to the chair after lunch and discharged after supper. A first-rate experience!"
Very Personable and Professional!
"Dr. Delisca is very knowledgeable and professional, but at the same time, very personable and easy to talk to. He takes the time to listen to your concerns and does what he thinks is best for you. Highly recommend his services."
Dr. Delisca is the Best!
"It has been a very long time since I have had a doctor who really listened to me and cared about how I felt. I have been to the hospital and other physicians' offices with no relief. Just one visit with Dr. Delisca and I understood my injury. Thank you, Dr. Delisca and Stephanie. You are the best."
The staff is amazing!
"I was so nervous the day of my hand surgery, but everyone was amazing. They were all so sweet and made me feel so comfortable. I can't say enough about how great Dr Delisca and his staff are."
Personalized Care!
"Dr. Delisca and his team were literally there for me from the minute I got injured. They provided me with personalized care and walked me through every step of process. I couldn't have asked for a better team."
How XCEL Orthopedics Can Help
Our skilled team provides comprehensive evaluations to diagnose and treat conditions including:
Acute injuries
Arthritis
Carpal tunnel treatment
Foot or ankle injuries
Hip conditions
Knee pain
Shoulder, elbow or hand injuries
Tendonitis
Find a full range of orthopedic solutions including:
Joint replacement procedures—knee, hip and shoulder
Sports medicine care
Injury diagnoses and treatment
Fracture care: operative versus non-operative (splinting and casting)
Orthopedic surgical services 
Related Services
At XCEL Orthopedics, our team approach to care means you have the support of physicians, providers and specialists dedicated to helping you every step of the way. From evaluation and diagnosis to rehabilitation and recovery, your care team may include providers from:
Diagnostic Imaging
Family Healthcare Clinic
Surgical Services
Occupational Therapy
Orthopedic Rehab
Physical Therapy
Rehabilitation
RCH Orthopedics Videos