Orthopedic Surgeon, Dr. Gadini Delisca
Dealing with an orthopedics issue? Such as a knee injury, maybe a sprained wrist, a shoulder problem, or are simply experiencing joint pain—like arthritis—and aren't quite sure what to do about it? Then, turn to the orthopedics team at Rochelle Community Hospital for help. Well-trained, experienced and focused on providing the best care possible for patients, we're here, ready and can't wait to get you feeling like you again.

Led by Orthopedic Surgeon Dr. Gadini Delisca, our orthopedics team can diagnose a wide range of orthopedic problems and treat those problems through a number of different approaches. This includes recommending simple recovery tips like resting and icing to physical therapy. Also if necessary, surgery to correct an issue that can't heal on its own. An example of one of these issues is arthritis where joint replacement might be the best option for long term pain relief.

When it comes down to it, our mantra is simple. We're here and ready to help, whenever you—or someone in your family—needs us. Make sure to reach out to us in the RCH Family Healthcare Clinic today where Dr. Delisca is seeing patients.
More About Our Orthopedics Team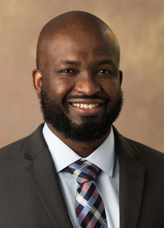 In addition to our orthopedic surgeon, Dr. Delisca, there are many other expertly trained members on the team. They include skilled, caring healthcare providers, nurses, a therapy and rehabilitation staff and a full surgical team. They all work together to understand what your needs are as a patient, allowing them to develop a personalized plan to reach your goals.
Our personalized approach to accomplishing your treatment goals provides a strong foundation for the expert work that we do. This echo's Dr. Delisca's own personal approach to practicing medicine. That approach is about making a connection with the patients he sees and treats. He has a passion for helping people of all generations to care for them as their needs evolve.
He enjoys all aspects of orthopedic care starting with general care such as casting and splinting broken bones. Plus, likes to tackle more specialized procedures head on, particularly joint replacement for hips, knees and shoulders along with complex fracture care.
How Our Orthopedics Team Can Help
As touched above briefly, our orthopedic team is able to diagnose, treat, and help with a number of different conditions including:
Acute injuries
Arthritis
Carpal tunnel treatment
Foot and ankle injuries
Hip conditions
Shoulder, elbow and hand injuries
Tendonitis
What makes it possible to treat these conditions are the orthopedic services we offer:
Knee replacement
Shoulder replacement
Hip replacement
Sports medicine
Injury diagnoses and treatment
Fracture care: operative versus non-operative (splinting and casting)
Orthopedic surgical services
Related Services
At RCH, there are a number of other related services that support our orthopedic team:
Diagnostic Imaging
Family Healthcare Clinic
Surgical Services
Occupational Therapy
Orthopedic Rehab
Physical Therapy
Rehabilitation
RCH Orthopedics Videos