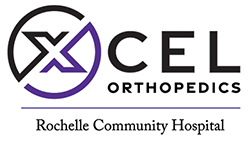 Complete care for all ages
Live life to the fullest and get back to the activities you enjoy. Dr. Gadini Delisca leads our expert team at XCEL Orthopedics providing customized care to help patients of all ages. From comprehensive evaluation to complete rehabilitation, find a full range of services to relieve pain, regain mobility and return to a happier, healthier and more active life.

Dr. Gadini Delisca leads the XCEL Orthopedics team offering a full range of services at Rochelle Community Hospital and the RCH Family Healthcare Clinic. Dr. Delisca's personable approach aligns perfectly with his passion to get to know people of all generations and help them as their needs evolve. From therapies to prevent further injuries to total joint replacements, find complete care from a team dedicated to helping you meet your goals and return to the quality of life you enjoy.
How XCEL Orthopedics Can Help
Our skilled team provides comprehensive evaluations to diagnose and treat conditions including:
Acute injuries
Arthritis
Carpal tunnel treatment
Foot or ankle injuries
Hip conditions
Knee pain
Shoulder, elbow or hand injuries
Tendonitis
Find a full range of orthopedic solutions including:
Joint replacement procedures—knee, hip and shoulder
Sports medicine care
Injury diagnoses and treatment
Fracture care: operative versus non-operative (splinting and casting)
Orthopedic surgical services 
Related Services
At XCEL Orthopedics, our team approach to care means you have the support of physicians, providers and specialists dedicated to helping you every step of the way. From evaluation and diagnosis to rehabilitation and recovery, your care team may include providers from:
Diagnostic Imaging
Family Healthcare Clinic
Surgical Services
Occupational Therapy
Orthopedic Rehab
Physical Therapy
Rehabilitation
RCH Orthopedics Videos