Rochelle Community Hospital has licensed physical therapists and an occupational therapist on staff that can create a personalized rehabilitation program for you. Whether you're recovering from surgery, an injury or an illness, our staff is ready to help you get back to doing the things you love – as quickly and smoothly as possible. Plus, we recently renovated and expanded our physical therapy unit so you can enjoy more space, added staff, new equipment and more.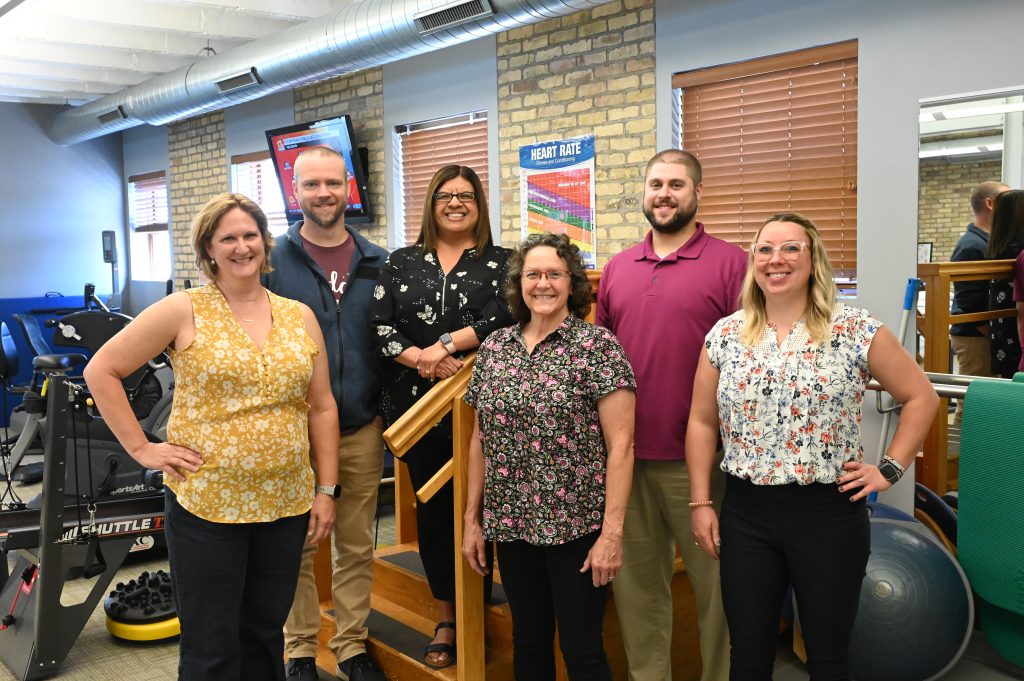 Rehabilitation Services Available at RCH
Physical Therapy


Physical Therapists are experts in proper human motion. We work with patients in the hospital and in outpatient settings. The goal of our Physical Therapy team is to help each patient achieve their full functional potential. To help achieve this goal, our licensed physical therapists will perform an initial evaluation that will help develop goals and a treatment plan that is specific to each individual client. Our therapists provide one-on-one treatment as well as skilled hands-on manual therapy. Your highly-qualified therapists and assistants will educate you on your condition and how you can work to improve it. We want you to achieve the best outcome for healthy, active daily living.
Our physical therapy services include:
Sports Medicine – treating injuries for any athlete
Orthopedics
Acute/Post Surgical – including total joint programs and back surgery
Neurological
Balance and Vestibular
Work/Injury/Cumulative Trauma
Strengthening/Core Stabilization
Skilled hands-on manual therapy
Relax muscles with therapeutic heat/ice treatments, electrical stimulation and ultrasound.
Our state-of-the art equipment includes:
A Biodex system (balance and strengthening)
Upper body ergometer
Parallel bars
Treadmill
Upright bike
Two recumbant bikes
Two private treatment rooms
Hours
Monday – Thursday: 8:00 a.m – 7:00 p.m.
Friday: 8:00 a.m. – 5:00 p.m.
Contact Us
Call 815-562-2181, ext. 1140, to schedule your rehab sessions or for additional information.
Cardiac Rehabilitation


At Rochelle Community Hospital, we can help you strengthen your heart so you can live life more fully and actively. When you are referred to us, you are no longer a patient, but an active partner in managing your heart health issues. Our Cardiac Rehabilitation program focuses on education, exercise and nutrition – all with your specific needs in mind. We will assist you in creating a program that promotes positive lifestyle changes, improves your heart health and reduces your risk of future heart problems.
What You Expect from the Cardiac Rehab Program
Learn how your heart works and what signs and symptoms you should report to your doctor.
Identify exercises (including appropriate intensity, duration, and pace) best suited for you.
Discover your own physical capabilities.
Gain confidence in resuming your favorite activities at a safe, progressive rate.
Select realistic strategies to lower coronary risk factors.
Cope emotionally and physically with your condition.
Increase muscle tone and metabolism to keep you healthier and active longer.
Your Cardiac Rehab Team
We have an exercise physiologist and registered nurses highly trained in Cardiac Rehab that will assist you in creating your program. Our team is known throughout the community for their warmth and compassion with patients and their families.
Does Insurance Cover Cardiac Rehab?
Cardiac Rehabilitation may be paid partially or completely by your private insurance plan or Medicare. Most plans cover 80 percent, but we will determine this for you prior to starting the program.
Hours
Monday, Wednesday & Friday:
6:00 a.m. – 12:00 noon
Schedule Your Cardiac Rehab Session
For an appointment, call 815-562-2181, ext. 2730. Each individual visit lasts approximately one hour. You must have a doctor referral before starting this program.
Pulmonary Rehab


Did you feel winded the last time you tried walking up the stairs? How about feeling exhausted after a simple walk down the street? If you've been experiencing breathing difficulties, then pulmonary rehabilitation may benefit you. Our program includes a personalized plan to help you become healthier and able to resume the activities that enhance your life. In time, we can help you experience improved breathing, increased endurance, and better overall health!
What You Expect from the Pulmonary Rehab Program
Exercise: Increase endurance, strength, and flexibility.
Education: Learn how the lungs work and what activities affect your breathing.
Medication and Equipment Use: Know how and when to use medications and oxygen.
Breathing Techniques: Gain control over shortness of breath.
Lifestyle Changes: Learn how to pace yourself during normal activities and ways to help keep your lungs healthy and functioning properly.
Your Pulmonary Rehab Team
Our team of medical professionals is specially trained to treat people with lung disease. As part of the program, they will teach you about the unique characteristics of your condition and the skills to manage it. And – as long as you keep exercising and using those skills – you'll continue to enjoy benefits even after the program ends!
Hours
Monday, Wednesday & Friday:
Starting at 11:00 a.m.
Schedule Your Pulmonary Rehab Session
To make an appointment, call 815-562-2181, ext. 2520. Please note that a physician's referral is required.
Respiratory Therapy


Hours
24 Hours/7 Days a week
815-562-2181, ext. 2520
Staff
8 Respiratory Therapists – 6 full-time
Services offered include:
Pulmonary Function Tests
Holter Monitors
Stress Tests
EEGs
Education on respiratory disease within the outpatient setting and the community
Orthopedic Rehab


Get relief from chronic pain caused by arthritis, back pain, carpal tunnel, cervical strain, fibromyalgia, fractures, and torn ligaments. Patients recovering from orthopedic surgery can also benefit.
Vestibular Rehab


Suffer from frequent falling and imbalance issues? Try this successful alternative treatment for chronic, non-resolved motion intolerance and imbalance problems.
Therapy & Treatments


Soothe wounds and injuries with whirlpool therapy treatments. Or, relax muscles with therapeutic heat/ice treatments, electrical stimulation, and ultrasound