Rochelle Community Hospital has named Karen Ravnikar as its' 2020 High Performer of the Year. Karen was selected among the 12 High Performers of the Month in 2020. She has been employed at the hospital for two years as the Laboratory Manager.

Shortly after Karen was recognized as the February 2020 High Performer, COVID-19 arrived in Rochelle. Karen has done an exemplary job of leading the Laboratory through the constant changes throughout the pandemic to care for our patients and our staff. RCH is pleased to be able to recognize Karen with this award.

Karen was nominated in February 2020: "Karen is a really hard worker. We have watched the efforts she has made to ensure the project (procedures) deadlines have been met before and after the inspector comes.

Karen has come to the Lab a few times on her days off (Saturday when she has a family activity) to take care of an analyzer issue and to solve the problem herself. She is a wonderful boss who knows how to bring out the best in her employees. She is very skilled, helpful, kind and friendly."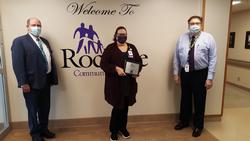 Pictured are: Jim Carle, Chief Ancillary Officer, Karen and Gregg Olson, Chief Executive Officer.